Many institutions have developed plans for their HyFlex classroom technology already, but some have not and are rapidly planning for the next term hoping to have multiple "HyFlex classrooms" up and running. When HyFlex starts with a few faculty, especially with small numbers of faculty often involved in initial pilots, it's pretty common that the initial adopters have to piece together the technology they need largely on their own and then request institutional support once they know what they want and need based on initial experiences.
This post describes four aspects of classroom technology that are very important to address when developing a HyFlex approach that can be effective at scale.
Start with Strategy
When considering the technology setup for a HyFlex course, the first decision to make is about the participation modes of instruction needed by students and provided by faculty. When a HyFlex course offers classroom and online synchronous participation, there is an important need to connect synchronous students through two-way audio and video streams to the classroom. If there is no need or desire to support online synchronous students, then perhaps the technology in the classroom can be less complex, but there is still likely a need to capture the classroom activities (presentations, discussions, etc.) for online asynchronous learners to review later. Note: Providing access to recordings of class sessions has also been shown to help classroom students review their notes later in preparation for assignments or assessments.
This guide supports HyFlex learning in any configuration, and in general refers to a traditional three-path approach with students participating in the classroom, online synchronously (at the same time but from their own place) and online asynchronously (at their own time and place).
Classroom Technology Needs
The classroom technology needs can be organized into four areas:
two-way audio stream (connection),
incoming video presentation of remote learners
outgoing video presentation of classroom and learners
interactive technology to support interaction, engagement, and formative assessment
1. Two-way Audio Stream
Audio from remote learners and other online sources must be clearly audible for classroom students. When asked, students learning remotely (or any students reviewing recordings of class discussions later) report that unclear audio from the classroom is the most common and impactful problem they experience with video resources originating from the classroom. It is important to capture audio with enough quality that voices from all participants can be heard well in the recording.
Most institutions install distributed sound sources, such as wall-mounted or ceiling speakers, throughout the classroom or lecture hall. This allows for more equitable sound reception rather than providing high volume in the area of the room closest to the speakers and low volume in the back of the room.
Any reliable speaker system can work well in this way. Some vendors (Shure, for example) provide specialized systems to make installation and setup convenient, though they may be more expensive. Any professional audio designer/engineer can configure a system that fits the room size and specifications. Many institutions have their own audio engineers and technicians; others rely on contractors for this design and installation service.
Integrated audio solutions, such as soundbars and those combining speakers and microphones, make installation much simpler. These solutions may be best for small to medium room sizes. Some solutions include room-wide video cameras also, further simplifying the AV setup.
Here are some examples available currently (you can find information readily available online). Institutions with their own Audio-Visual staff are likely to look for solutions from favorite vendors.
Integrated audio bars (microphone and speaker together)
Integrated audio and video solutions; perhaps best for small classrooms (30 or less) and conference rooms
2. Incoming Views of Remote Learners
Another important technology impacting learning remotely is the view that classroom participants have of the remotely connected learners (participating in the synchronous online path). Students who are joining the class remotely through a videoconferencing technology (Zoom, Webex, MS Teams, GoToMeeting, etc.) must be visible to everyone in the classroom, both to the instructor and to the other students.Incoming Views
Three common layouts include:
Simple screen configurations often use two screens mounted at the front of the classroom, for example, two 75 inch or 85 inch high definition screens. One screen is used to show the presentation (PowerPoint, website, or other content) and the other shows the web conferencing participants.
Better configurations move the second screen off of the front wall to a side wall or in one of the room corners so that that instructor can see the remote participants without having to turn around to face the front wall, with their back to the classroom students.
Moving the second screen to the back wall of the classroom is sometimes done, but then the screen may be too far from the instructor (making the remote participant video panels very small) and require classroom students to turn around to see the remote participants.
3. Video Streamed from the Classroom
Another important technology impacting learning remotely is the view that remote learners have of the classroom and participants. Typically, video from the classroom is provided by a "PTZ" (Pan, Zoom, Tilt) camera located at the rear of the room or in a corner of the room that can be moved automatically to preset areas of focus or to follow a speaker (wearing a microphone). Many older lecture capture cameras (Panasonic, Echo360) can be used for room capture in HyFlex. Newer devices are beginning to use more advanced systems (AI-based in some cases) to listen to the room and focus on the current audio source. These PTZ systems can also be "locked" into place to avoid constant panning and zooming in a noisy environment. A few examples:
4. Interactive Classroom Technology
When students are participating in the classroom and online remotely at the same time, many instructors use interactive technologies to engage the online students in live activities, such as quizzes, polls, and others. Classroom students should also be engaged in the same activities at the same time, using personal devices or perhaps a classroom set of devices. These activities use online platforms are requires classroom students to have networked interaction devices such as cell phones, laptops or tablets. Several considerations for interactive classroom technology:
The classroom technology environment must support robust wireless high bandwidth connections to the internet.
Classroom students must be able to bring their own devices or use devices provided in the classroom (a class set of tablets, for example), or perhaps be willing to share a device with another student. No device = no connection. (Some level of live analog participation in the classroom may still be possible with hand raising or the use of whiteboards and other traditional classroom technology.)
The school may provide access to online interactive technology platforms that go beyond the simple polling available in most web conferencing platforms. Two common examples used in higher education include Poll Everywhere (https://www.polleverywhere.com/) and Mentimeter (https://www.mentimeter.com). For a long list of tools – many with free versions – see: https://www.nwea.org/blog/2021/75-digital-tools-apps-teachers-use-to-support-classroom-formative-assessment/
Other Resources for Technology Planning
Other information and ideas about setting up the technology in classrooms can be found in the community- developed resources of the HyFlex Learning Community (https://hyflexlearning.org). See the recommendations posted to the HyFlex Learning Community forum focused on technology needs: https://www.hyflexlearning.org/forums/forum/technology-what-is-needed-to-support-hyflex-modes/ (See Figure 1)
Figure 1. HyFlex Learning Community Forum: Technology: What is Needed to Support…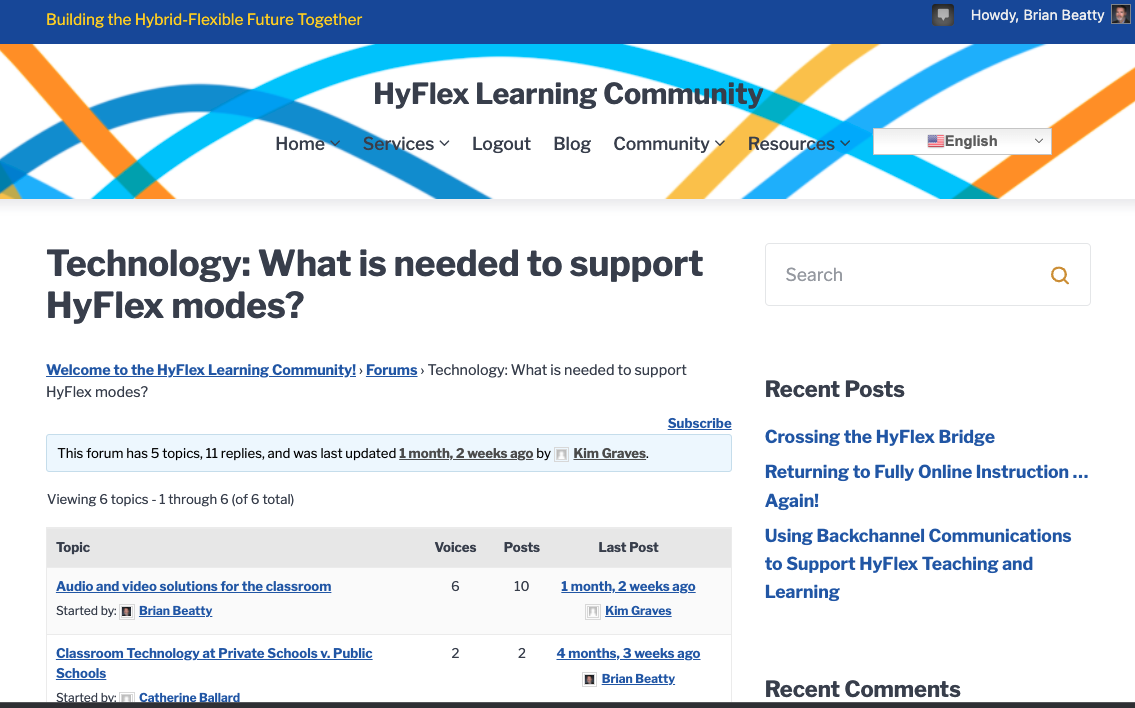 Selected posts to this forum:
From Glori Hinck,University of St. Thomas, Minneapolis, MN
With the onset of the global pandemic and the need to pivot courses online, the University of St. Thomas outfitted all classrooms with the following technology for a consistent faculty experience. We have found these technologies to work well for us overall.
Microphone
MXL AC 404 Portable USB
Can capture Professor's voice as well as student's voice from back of the classroom
Located near the center-front of the classroom, On a stand that can be Mobile
Made for video conferencing with Zoom
Camera with Remote


Logitech PTZ Pro 2
Pan-Tilt-Zoom control
3 camera angle presets
Strategically located in the room to capture multiple angles
Annotation Monitor
Artisul D22S 21.5 Inch Drawing Display
Draw/write on top of Slides
Draw/write on blank document
Annotation monitor replaces the PC monitor
Document Camera (HoverCam)
HoverCam Solo Spark II
Built-In Mic with Noise Reduction
Camera with A/F & A/F Lock
Four Ultra-Bright LEDs
Back-up/Emergency Camera

Flexspace.org; sharing examples of flexible and active classroom designs from the education community.
https://flexspace.org You will need to register with a name and email address to access the detailed room descriptions. (See Figures 2 and 3.)
Figure 2. Main page for Flexspace.org (https://flexspace.org)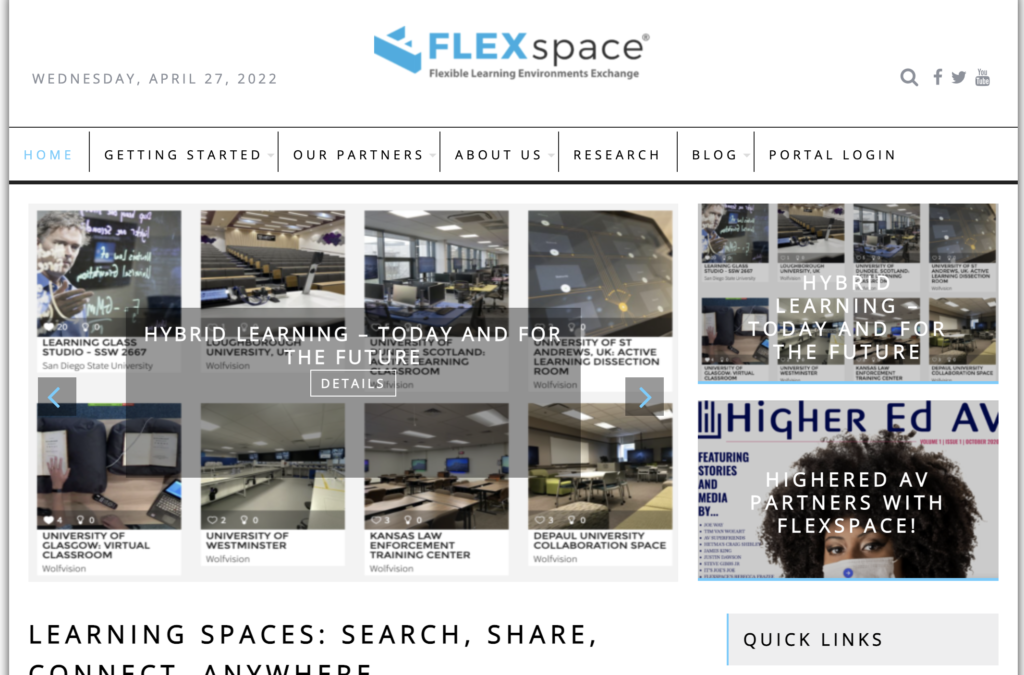 Figure 3. Room detail page in Flexspace.org (https://members.flexspace.org/node/1893196)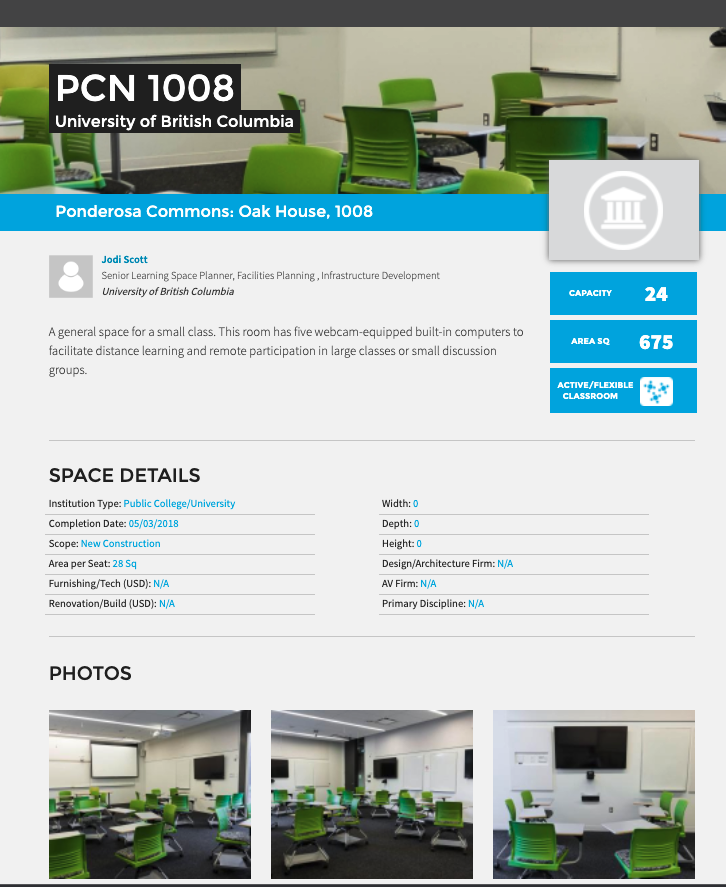 Design for Your Context
Like most aspects of HyFlex implementation, it's likely that no one else's HyFlex technology set up will be the "best" solution for you and your classroom. Your room size, configuration, network and technical infrastructure, local IT and AV staff support, and resources ($$$) will lead you to different decisions about which technologies to deploy.
All stakeholders should work together on solutions: the faculty, IT/AV staff, administrators with resources, and perhaps even students. The bests solutions I've seen in other institutions and personally experienced in my own teaching have come about because of coordinated collaboration among all of us.
I hope you can experience this success too!